I really do feel that blogging is a form of therapy for me. This blog makes me feel that I am connected to a large support group! I am such a blog stalker and LOVE to explore other blogs about teaching, crafts, books etc so I am always surprised when someone else shows appreciation for this little blog! Thank you so much to Elisabeth from
Twins Teaching and Tacos
for honoring my with the Liebster Blog Award.
The rules of this award are as follows:
1. Show your appreciation to the blogger who nominated you by linking back to their blog. Thank you, thank you, thank you, Elisabeth! Head over and check her out!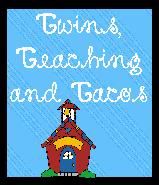 2. Nominate five happy little blogs (200 followers or less) by posting a comment on their blogs.
3. Post the award on your blog.
4. Check out what the other up-and-coming blogs have to offer.
Check these awesome blogs out!
I also want to thank Chelsearose over at Blooming into First Grade for awarding me the Versatile Blogger Award! Her blog is very cute! Go check her out!
Also...if you are out there and you can make me a blog button, please help. I have followed tutorials and it only makes me want to cry.....help.....
Bee the Change~