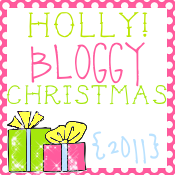 I FINALLY have a few minutes to get my post out about Holly Bloggy Christmas! This was a FUN FUN FUN activity hosted by Caitlin over at
Ms. Preppy
and Sarah over at
Kindergarten Korner
!
I received a fantastic gift from Madison over at
Life with Mrs. L
! She incorporated my new-found love of owls and created a great trio of owl gifts! The first picture is the one that SHE took and posted on her blog (I prefer to think of myself as "resourceful" rather than lazy). The second is a close-up of the meal planner/shopping list page. I think this is particularly cool because I am the person that plans the weekly menu and shops for the week off the menu! Cool!
The person that I got to "gift" was Jennifer over at
Rowdy in First Grade
. I sent her a name banner for her classroom, some M&M's and a bracelet that I made. This was a VERY fun endeavor!